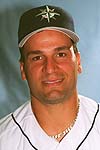 ARLINGTON, TEXAS (TICKER) — The Texas Rangers, searching for a backup to perennial All-Star catcher Ivan Rodriquez, today agreed to terms with free agent John Marzano on a minor league contract for the 1999 season.
The deal was struck with Triple-A Oklahoma of the Pacific Coast League but the 35-year-old Marzano has been invited to spring training camp as a non-roster player. He earned $300,000 last year.
Marzano spent the last three seasons as a reserve with the Seattle Mariners. In 1998, he batted .233 with four homers and 12 RBI in 50 games. He had a .997 fielding percentage — one error in 342 chances — while starting 40 games behind the plate.
In a 10-year career with the Mariners, Rangers (1995) and Boston Red Sox (1987-1992), Marzano owns a .241 average with 11 homers and 72 RBI in 301 games. He was out of the majors for two seasons after undergoing elbow surgery on May 3, 1993.
Marzano spent the 1995 season in the Texas organization, hitting .309 in 120 games at Oklahoma City before going 2-for-6 in two games with the Rangers late in the season.
Bill Haselman served as the backup to Rodriguez last season, hitting .314 with six homers and 17 RBI in 40 games. But he signed with the Detroit Tigers during the offseason.