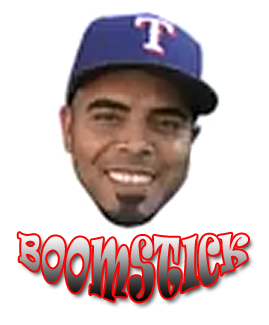 I'm pressed for time today, as I have a lot of things going on, so I can't write about this one too much, as much as I'd like to.
I think I can sum it up pretty good with the graphic I created after Cruz's grand slam the other night. It fits well here, too.
Obviously, that's not the only thing going on, but last night, Mr. Boomstick got his second home run and 7th RBI ONLY in the 11th inning, and ONLY in this series. It's quite impressive. Also, when Cruz got the home run in the 11th, I almost spiked my iPad on the sofa. I didn't, but I was rather excited by that. :)
Cruz also had a very impressive throw from right field to Napoli at the plate to gun down Miguel Cabrera who was trying to score. Cabrera was out by a mile and a half. That's probably more to Cabera's slowness than Cruz' throw – but man, the throw was great. Not to demean the throw, because it was great. But Cabera was out by an EXTREMELY large amount of space. Some of that had to do with his (lack of) speed.
Michael Young finally came through with an RBI; he's been dreadful in that regard in the playoffs so far.
Speaking of dreadful, our starting pitching this round continues to be pretty blah. No stamina, and our pen is getting worked around a bit. Look at this:
G1: Wilson, 4.2IP
G2: Holland, 2.2IP
G3: Lewis, 5.2IP
G4: Harrison, 5IP
None of them went six. Lewis was the closest, but the overall workload for the pen this round is a minor concern. Not enough to cause a panic, but they are getting worked a lot. Probably won't hear anyone complain about it given where we are, though.