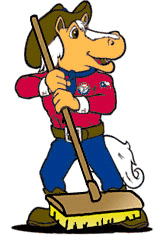 Sunday afternoon featured one young Rangers pitcher vs another young pitcher who was supposed to be a Rangers pitcher.
Matt Harrison, acquired in a blockbuster trade when we sent Mark Teixeira to the Braves squared off against Blake Beavan, who was sent to Seattle in the blockbuster trade where we got Cliff Lee last summer.
While neither was really bad, Harrison was clearly better, as he only allowed one run, and it came late in his outing. Beavan wasn't bad either, his only mistake was a big three run home run to Mitch Moreland early on, which was actually all the runs the Rangers got. Moreland was just 1-4, but the one was the big home run, so that pretty much was his day right there.
The Rangers offense was pretty scattered, as we had just seven hits. Only Mike Napoli had more than one. However, four of the seven were extra base hits. There was Moreland's home run, and three doubles (Hamilton, Beltre, Napoli). As "eh" as that was, the Mariners were even worse. Just five hits total, nobody got more than one, and four of them were singles. Just one double.
Matt Harrison went 7.2 innings, allowing just five hits and one walk, while punching out four and allowing just a single run. That run came after the one line Mariners extra base hit was scored by one of their singles. Mark Lowe came in, finished off that inning, and Neftali Feliz finished it off with his 20th save. Both Lowe & Feliz were perfect, so it topped off Harrison's performance quite well.
This is the second straight four game sweep in a row. That's quite impressive, and if we can pull that kind of thing off against Anaheim, we'll put some distance between us and the rest of the division. If we pull off some sort of big trade at the deadline too, it'll be an epic boost to the confidence going into the last third of the season, for sure.