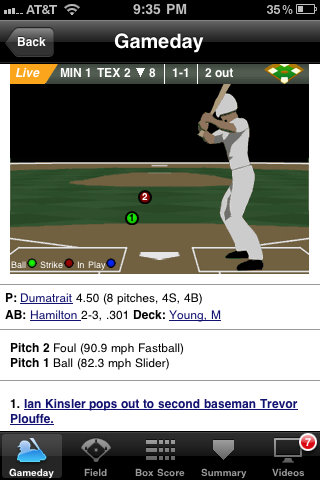 First off, I wanted to draw attention to the image with this entry. Given I can't watch games on TV much anymore, this is how I've been "watching" games. Via the MLB At Bat app. Depending on where I am, it's either iPhone or iPad. This particular game was on the iPhone. Checked in during the 8th, and saw this status update for Ian Kinsler. I cannot say I was surprised to see that. Capt Uppercut has returned, going 0-4 this game.
The Rangers pounded out ten hits this game. Couple of doubles (Hamilton & Torrealba), and a pile of singles. It was enough to plate a run in the fourth & fifth, as well as a pair in the eighth. Josh Hamilton went 3-4, pulling his average up over .300 (304) with a triple and a double. Actually, Hamilton was the home run short of the cycle.
Michael Young & Mitch Moreland each had two hits.
Matt Harrison was solid this game. Went 7.1 innings, gave up eight hits and a walk (a little high on the hits, but not alarming). Just one run in the sixth (to Thome). Came out with 114 pitches thrown. The relief core behind him was solid. Tateyama (0.1 IP), Arthur Rhodes (0.1 IP), and Neftali Feliz (1 IP), were all perfect. Nothing allowed by those guys.
Well pitched game.
Not thrilled at Capt Uppercut making a comeback, though.