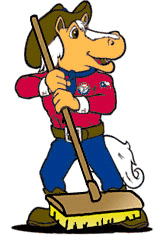 I have to say, this was the game I figured we'd have the hardest time with. Felix Hernandez, the Cy Young winner last year is not a guy you "just beat", no matter how bad the Mariners are. To be honest, he was quite good. We scored four runs off of him in all. Three of them we really should not have. The three spot in the second was helped by some really shoddy defense by Seattle. Led to the runs. The one we scored in the seventh off of him we did get, I think. But it should have been just the one against Felix, in which case, we might not have won, so thanks Jack Wilson.
CJ ended up matching Hernandez quite well overall. Check out the compared lines:
Hernandez: 7IP, 6H 4R, 2ER, 3BB, 6K, 107P
Wilson: 7IP, 6H, 3R, 2ER, 2BB, 2K, 108P
Pretty similar lines there. Hernandez was dancing, though. He was more dominant than his line led on. We just managed to get it together just enough to beat him. Which is always good.
Kinsler & Andrus took an ofer, but everyone else had at least one hit. Almost all were singles. Seven singles, two doubles. That was it. But bunched together well enough to get two three run innings in the game.
I'm writing light about this one, but I have to say, it was quite shocking that we got out of the gate 6-0. I'm quite pleased, mind you, but QUITE surprised. Next up is Baltimore. Let's see how we do against a much improved Orioles team from last year.