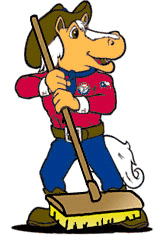 "Three homers, a six-run fifth and C.J. Wilson's 10 K's powered Texas past K.C. on Easter Sunday to finish off the series sweep."
That's how the official MLB recap starts. It's a pretty darned good quick summary. CJ Wilson continues to look great this season. I also noticed he's in the Top 10 of AL pitchers on the strikeout list. He's tied with Felix Hernandez for 6th place with 31 of them. #1 is Jered Weaver with 39. Wilson had 10 on Sunday. Looked good.
Napoli, Beltre, & Blano (Blanco?!?) each had home runs this game.
This is the last of my "short" updates. Should be back to normal updating with the April 25th game.