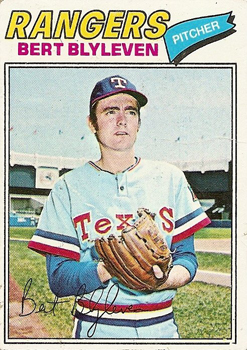 This week was the Hall of Fame 2011 class induction announcement. I think to nobody's surprise, there were two player inductees to go with the previously announced Pat Gillick. Bert Blyleven & Robbie Alomar.
Blyleven finally gets in after a zillion years of not getting enough votes. Given the general lack of huge names this time around, it seemed like a lock after he got so close last year. If you're reading this site, you've read the big ticket sites and know his numbers. There was no way I thought he'd go in as a Ranger, I figured he'd go in as a Twin, and I read tonight that this was the case.
Bert was here for the 1976 & 1977 seasons, although 77 was his only full year here, having come over mid season in 76 from the Twins. He compiled a 23-23 record here, with ERA's of 2.72 & 3.03. While his playing career says he played when I was old enough to remember him, he spent the majority of his time in AL teams. He was only in the NL from 78-80 when he was in Pittsburgh. I don't remember him much at all, but his numbers are great. Felt he should have been in for awhile.
Robbie Alomar got in, and after getting 90% this year, and I forget what last year on his first year, one thinks it was some sort of penalty for the spitting incident. Still, he was an awesome second baseman, and deserved to be in as well.

I'm a bit surprised that Jeff Bagwell didn't place higher, and some of the "almosts" (Barry Larkin, Jack Morris, Lee Smith), might have a shot next year when the class is even weaker than this year in general. Could be next year it's just Barry Larkin. We'll see.
And then there's the other Ranger players on the ballot this year. The biggest name of them is Rafael Palmeiro. While his finger wagging didn't help, I believe that he was telling the truth when he did that. Getting in front of Congress and lying is just dumb. Granted, there's Barry Bonds, but that's another story completely. Still, if you look at the point where Palmeiro was drawn into all this, he was at the back end of his career at that point. If he started cheating around that time, it didn't make any sense to me. Why start cheating when you already have the numbers, and are at the tail end of your career? Not to say it's impossible, but my gut feeling says he didn't do it. If I had a vote, I would have voted for him. Apparently not a lot of others did, as he just got 11% of the votes (64 of them). Unless some new conclusive evidence shows up, I can't see that going up at all.
Juan Gonzalez was on the ballot too, and got less coverage than Raffy. Juan was "fingered" by Canseco in his book, and while he denied it, Juan's general grump attitude will never help him. A lot of noise has been made about various players getting hurt by the press when it comes time to vote, because they didn't talk to the press, etc… He got 5.2% and 30 votes. Wonder who those guys are, as none of the local DFW guys voted for him that I'm aware of.
The only other former Rangers on there were Harold Baines (4.8% – 28 votes) & Kevin Brown (2.1% – 21 votes). Both Baines and Brown will be dropped after this year, because they're below 5%. Juando will stay on – barely, but I can't imagine him going anywhere, he'll probably get dropped after 2012.
Back to the guys who DID get in. Blyleven joins a crew of players and managers who have suited up for the Rangers, but aren't in the hall with a Rangers cap. Only Nolan Ryan is in there with a Rangers cap. The rest of the Rangers HOF contigent is below: