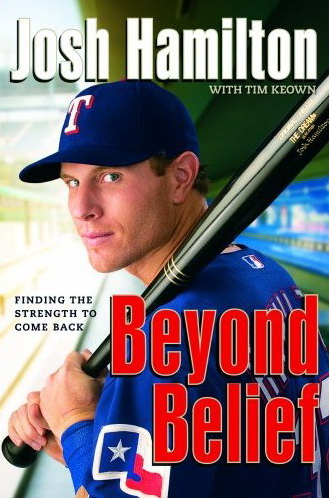 Some time ago I wrote about Josh Hamilton's Book, but with the Rangers in the playoffs, and my site getting a little more attention, I thought I'd mention this again. Since I mentioned it last, Amazon has come up with something called "Kindle for the Web" where you can read Kindle books online. Now, I can't make the whole book available here, but they do have a sample you can read, so check it out below (it might not show up if you're actually reading this on a Kindle).
Here's what I wrote in a review for Amazon.com. If you've never checked out the book before, click here, it will take you to the page on Amazon.com for it.
This is a fantastic, extremely compelling story of one man's redemption through the power of God. As a Rangers fan, I knew most of this before I read the book, but a complete story was definitely worth a read. You'll cheer at the comeback, and wonder what the hell he was thinking in the bad bits. Even if you are not a baseball fan' you should read this. The power and glory of God just spill out all over this book. i got a physical copy the day of release and finished the whole thing in one sitting. It was that compelling. Bought a second copy on my Kindle, and gave the hard copy to my church for their library!
NOTE: The embedded Kindle for the Web app was sized for my site here. It looks best if you hit the "full screen" button below.