It's Friday night, so we got a rain delay, it's become a pattern. Last three Fridays have had a rain delay. This one was inside the game, though. Plus they played a lot of it IN the rain.
We got out early again, and while it wasn't a six spot in the first inning, we were up 2-0 on a couple of RBI singles, and it felt good. It wasn't 6-0 for sure, but I'll take 2-0. Colby Lewis didn't stick a string of zeroes on the board, he let the Sox tie the game in the bottom of the second. It was on an RBI single, and then a wild pitch scoring the second run.
After the game was tied, the rain delay (of an hour) came in, and surprisingly, both starting pitchers came back out to pitch.
Colby gave up the lead by allowing a solo home run to Adrian Beltre about 3/4 up the monster seats. But that's about as bad as it got.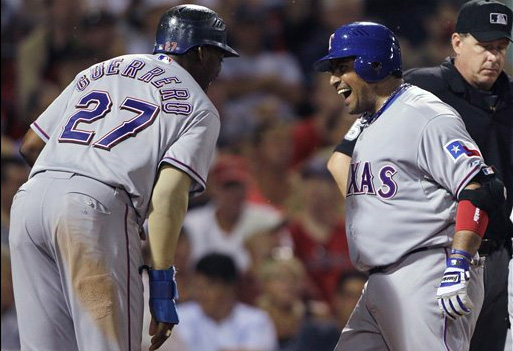 Because in the top of the fifth, we had another inning like the top of the first the night before. The big highlight was Bengie Molina hitting a grand slam just over the center field wall into the first row or so of seats up there. It was pretty cool, and was something that became more important later on. At this point, the home run left Molina a triple away from the cycle. Now we all know Molina has some pop, so the home run wasn't a surprise. Single – no problem. Even the double is reasonable, as even I could run to second on a ball hit far enough into the alley. But a triple? Bengie Molina? Three bases? I don't think so. But that's exactly what happened in the top of the 8th when Molina lined a fly ball to center fielder Eric Patterson. It bounced off his glove, and careened into that little wedge out there in center field – about the only place Molina could get a triple, save for the deepest part in right field. What was the coolest part about the cycle was not the cycle itself. It was the fact that Josh Lewin & Tom Grieve turned into fans and weren't announcers, as Molina approached second base. It was absolutely awesome to hear them hooting and cheering 'em on as he got to third base. One of my favorite moments of the two of them during their tenure. I replayed it a few times, it's a great clip. You can watch this clip at this link over at mlb.com. After the bit used in this clip, they went on to talk about it some more, and Tom Grieve said that after Josh stopped calling he heard the end of Eric Nadel's call in the booth next to them, and they said virtually the same thing. I think my favorite single moment is Tom Grieve laughing after Molina got to third – his laugh reminded me an awful lot of Burt Reynolds' laugh as "The Bandit" in "Smokey & the Bandit". Josh, if you read this, there's your popular media reference for the night. :)
So good for Bengie Molina getting the cycle – it's a great thing for him to have, given how much of a beating he takes for his "slowest runner ever" reputation. Not long after this Molina came out of the game, from what I can gather as a precautionary measure, as he tweaked something coming around first base on the triple. From what I read after the game, he could play on Saturday, but it wouldn't surprise me if Treanor catches Cliff Lee just to save Molina.
We're now up 2-0 in this series against Boston, which is way better than we've performed in Boston recently. Tomorrow night is Cliff Lee against John Lackey. It should be a good game, but I'll be out in Grand Prairie with my daughter at an AirHogs game. I guess I'll be keeping track of the Rangers game on my iPhone. :)