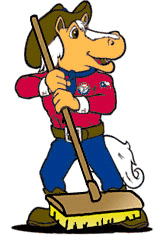 This was the only game in the series we really had to work for. In fact, up until the bottom of the ninth when we won it in walkoff fashion, we hadn't had a lead at all up to then.
Since so many people are making Spinal Tap jokes right now, I'll avoid that, but I will say it was very cool to say we've won 11 in a row. As I write this, the Angels game from tonight is still going on, so we're temporarily 4 games up on them in first place. They're losing, and if it stays that way, we'll be up 4.5 games. Wow. I know it's not like 17 games up, but it's still a great feeling.
The Rangers got beind the eight ball very early as Scott Feldman stunk up the joint and gave up a four spot in the top of the first. From there it was time to employ "The John Blake Peck-away Theory". The Rangers picked up a run in the bottom of the second on a groundout by Justin Smoak. After the Pirates got their fifth run in the top of the fourth, we answered with a two spot, both coming on sac flies. And both to the 407 sign in right center, which on a night with wind would have been home runs both. We tied the game in the bottom of the seventh on a Michael Young triple that I initially thought was a foul ball, but replays showed it was fair. But NOT by much. That scored Andrus. Kinsler later singled, scoring Young to tie the game.
That took it to the bottom of the ninth against one of the few Pirates pitchers that's pretty darned good. We beat him. :) Elvis walked and Michael Young singled. Andrus hustled to third on a move that I thought was perhaps questionable, I didn't think he had enough speed to do that. But he got there. He scored a few minutes later when Vlad Guerrero singled to win the game. Guerrero smiles a lot anyway, but wow – it was like he was an ad for a dentist or something out there.
The team really picked up Scott Feldman, who continues to be "meh" this season. Shame, as I had penciled him in for 20 wins easy in spring training. :)
Again, this makes three consecutive series sweeps (Marlins, Astros, Pirates). The Astros come into town this weekend, and man – if we can sweep them again, we'd tie the overall franchise record at 14. But let's not get ahead of ourselves. We're at 11, and Nigel Tufnel be damned, I want to tune it a little past that.