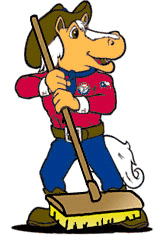 The Rangers had 15 hits total. Two players had 9 of them – That's 3/5 of the total hits from two guys. One you'd expect – that was Josh Hamilton. Josh went 5-6 in the game, but the other was Julio Borbon who went 4-5 with a walk.
The Rangers had no home runs, but four doubles. Just a pile of singles. Our five runs were scatted all over the box score. One in the second, third, sixth, ninth, & 10th. The most important ones I suppose were both by Josh Hamilton. One was the single in the 9th by Josh, which tied the game up sending it to extra innings. The other being the one in the 10th as the Rangers took the lead, and the win. AND THE SWEEP!
That's two sweeps in a row, and a winning streak of eight wins in a row!
I'd be neglect in mentioning the performance of CJ Wilson, who didn't get the win, but should have. Seven innings, two earned runs (four overall). Six hits, three walks. He looked decent, if not dominating. The error by Vlad Guerrero didn't help, that's for sure.
Still, he did a decent enough job, and the Rangers got the win overall, which is the whole point. Back home to take on the Buccos – dare we think of three consecutive series sweeps?