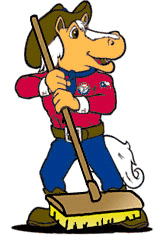 For their fifth win in a row, the Rangers swept out the Florida Marlins with a 6-4 victory in Miami.
It started off with a moment that a lot of Ranger fans was wondering when it would happen. Rich Harden missed a start. Yeah, he's officially on the DL, but given the way he was pitching, I suspect it wasn't as "truly DL" as some real injuries are. In his place was Dustin Nippert, who has made some starts in the past, but for tonight was still a reliever, so he wasn't expected to give the team a lot. And he didn't. Nippert only went three innings, and allowed three earned runs on seven hits. He also had no real command, throwing 74 pitches in those three innings, an average of TWENTY FIVE PER! Too much.
Following him was Alexi Ogando again. Alexi went not as long as Nippert, but had way better results. On 40 pitches, Ogando went 2.1 innings, allowing three walks and striking out four. But as I've said before – the bottom line is runs, and he gave up none. Good thing that.
Chris Ray, Frank Francisco, & Neftali Feliz finished out, and only Frankie allowed any hits (two) and any runs (one). All the other relievers (Ogando, Ray, Feliz) no hit the Marlins. So the pen was good.
Four of the Rangers 11 hits were extra base jobs. A few doubles (Kinsler with 2 and Murphy with 1) were nice, but there was this titanic home run by Vlad Guerrero to left – went way past where balls usually go in this stadium (I don't know what to call the place, it's had the most name changes in the last 5-6 years than any other place I know). I mean this home run was not only a no doubter immediately, it was a "everyone stands and watches it" kind of shot. Jose Canseco in the Skydome kind of home run.
Matt Treanor had another good game. While not as dramatic as the GW triple the other night, he did go 2-4, which is a good showing. Kinsler also had two hits, the better of them being a double in the fifth, which plated Elvis Andrus & Alexi Ogando.
Ogando again? Yeah, he got a hit in that inning, which itself was a surprise. A good clean, crisp swing too – no cheap shot.
Was a great series in Florida. We then move on to Houston, where we SHOULD do well, as the Astros are pretty awful nowadays.