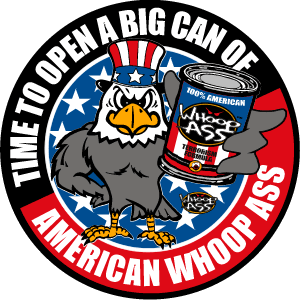 Two whoop-ass games in a row. That's pretty darned cool. Two games in a row where we scored 12 runs against the Mariners. Two games in a row with home runs by Michael Young and Josh Hamilton (although Hamilton's HR game streak is longer than that). Overall the series was a pretty darned good one. In four games, we outscored the Mariners 33-10, and that includes in there a game where the Rangers scored just two runs! Big old can of American Whoop-Ass indeed!
The Rangers got out to an early lead. After the previous game, this had the effect of making it seem like more of the previous nights' game. The Rangers were up in the first 3-0 behind mostly a two run home run by Josh Hamilton. Probably would have been more had the Mariners not turned a double play in the inning.
The scoring in this game wasn't nearly as "spread out" as in the previous game. We had three big run innings. A three run first, a four run third, and a five run sixth. The third inning started off with a Michael Young home run, and then there was some fun. Kinsler singled, Guerrero walked., Josh flied out, then Smoak reached on an error. David Murphy grounded out, and Matt Treanor singled. Nothing terribly sexy there, but it did result in a four spot on the board. The five spot in the sixth was a rather similar deal. There was a double in the middle, but it was a pile of singles and some other plays besides actual hits (like a groundout).
Tommy Hunter started this game, and while he wasn't as totally dominant as he was his last start, he was pretty good on the mound. Six innings, five hits, three walks (bit too many for 6 innings), but just two earned runs (one unearned). Looking like he'll be a mainstay going forward. Makes me wonder if Rich Harden will stay. :)
Anyway, totally nice drubbing of the Mariners here, and overall, despite the first game performance by Cliff Lee, it felt like a complete domination in the entire series. We go into interleague play 1.5 games up in first place in the AL West. Let's see if we can widen it a bit the rest of this month!