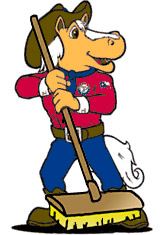 A little while ago I made the remark that Scott Feldman really was the Rangers staff ace. That notion is now getting some movement as Dave Barnett referenced the fact that Feldman is the real staff ace now. Makes you wonder, if all things are equal if Scott Feldman will get the opening day nod for 2010. He certainly deserves it. Millwood has held that position the last few years, but man, he doesn't really deserve it in 2010, does he?
Today was highlighted by seven shutout innings for Scott Feldman. He scattered five hits and a walk – none of them in the same inning. Which would explain why a five hit shutout had only one 1-2-3 inning (the third). He left with 111 pitches thrown, which would possibly be the only knock on him, that's a few too many pitches. Not obscenely too many, but a little on the high side. General convention says you should have 105 through seven. So not too awful, but the lack of more than one 1-2-3 probably contributed to that. But you can't argue with this.. This was the fourth shutout in the last nine starts for Feldman. Wow.
Offensively the game started with a bang. Cleveland starter Fausto Carmona was beyond awful. 0.2 IP, 5 H, 5ER, 1BB, 1K, & 2 HR. He threw 41 pitches, and only got two outs in the game. I mean, as much as it was good for the Rangers to have a performance like that, you felt bad for Carmona (although not TOO much – haha). Those five runs were all scored before 11:30AM Dallas time. And that's all we got offensively this game. That's all we got for the majority of the game – we didn't get any more until the ninth inning.
The biggest individual performance was Esteban German, who went 5-5. Nelson Cruz was the only Ranger without a hit, taking an 0-5. Marlon Byrd, however, continued his assault in Cleveland. While he didn't have as many hits as the doubleheader, he did have four RBI to go with his 2-5 performance. Other notable things is that Pudge had 3 RBI's. We also had 10 batters in the first, scored nothing else for seven more innings, then had a total of 11 more in the ninth as well. We had five runs in the first, and five runs in the ninth. Probably could have had a lot more in the ninth, as we left the bases loaded.
The game was finished off with some fantastic defense in the ninth inning. There was a great lineout to Elvis Andrus, and then a big play from Andrus to Chris Davis.
For the first time since the end of the 1999 season, the Rangers are 19 games over .500. They're also just a game and a half behind Boston for the Wild Card. Of course, as I write this Boston hasn't played yet tonight, so it could end up being just one game. LET'S GO ORIOLES!