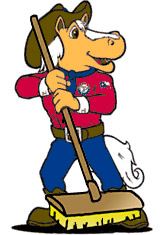 Scott Feldman led the way to a sweep of the Tampa Bay Rays and a continued tie with Anaheim for first place. Scotty was quite good, going six innings, allowing just three hits and two runs (only one was earned). He did have a few too many walks (four), but gave up no longballs, and pretty much kept Tampa in check.
In fact, the three hits that Feldman allowed were all singles (Crawford, Burrell, Gross). Our bullpen (Jennings, Wilson, Francisco) all pitched a perfect inning to hold the game and grab the win. Really nice pitching in this game. Hopefully we can keep it up when we hit the road on Monday.
Offensively, we didn't have a ton going on either, just eight hits in all. Which is better than what Tampa got, but isn't an onslaught like the previous game. David Murphy was by far the best in this one with three of the eight hits. It was a singles brigade, with just two doubles (Young, Salty) being the only hits that weren't singles. Despite the number of hits, only three guys took ofers (Kinsler (again), Blalock, & Cruz).
Was one of those "just enough" games for the win and the sweep.