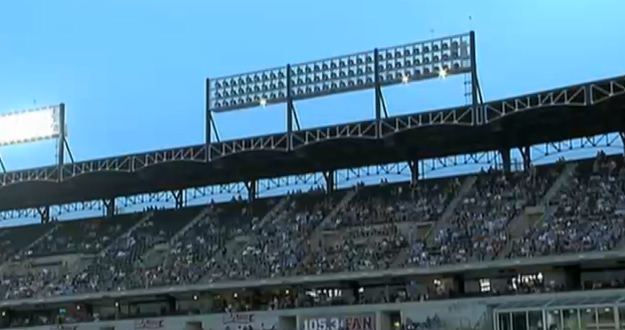 I've seen the lights go out on Arlington
I saw the Lone Star State laid low.
And life went on beyond the Galleria,
They all bought bright Leuxes-
And left there long ago.
They held a concert out in Arlington-
To watch the Ballpark lights blow.
They turned our power down,
And drove us underground-
But we went right on with the show…
Feldman & Wolf were rolling on now..
Lookin like a classic pitcher's duel
Then the right field lights went out
We sat and waited
For lights that never came…
We sat at home for hours
Watching Rain Delay shows
The fun was going away
I wanted to hit fast forward..
And we lost all hope of the game
When finally out of nowhere
The lights in right just turned right on.
The players took the field
All the pitching was lost
Both teams ran out the bullpens.
Homer by Kemp
Doubles by more Dodgers
Ran the score up three to one
Guardado, Grilli, & O'Day,
Even Moscosco couldn't help
The Rangers lost the game!
I've seen the lights go out in Arlington-
I saw the ruins at my feet,
You know we almost didn't notice it-
We'd see it all the time on Randol Mill Rd.
They burned the churches up in Oak Cliff-
Like in that Spanish Civil War-
The flames were everywhere,
But no one really cared-
It always burned up there before….
I saw the lights go out on Arlington-
I watched the mighty skyline fall.
The boats were waiting at Ray Hubbard,
The union went on strike-
They never sailed at all.
They sent a carrier out from Norfolk-
And picked the Yankees up for free.
They said that Queens could stay,
They blew the Bronx away-
And sank Manhattan out to sea….
You know those lights were bright on Arlington-
But that was so many years ago…
Before we all lived here in Texas-
Before the Mafia took over Mexico.
There are not many who remember-
They say a handful still survive…
To tell the world about…
The way the lights went out,
And keep the memory alive….