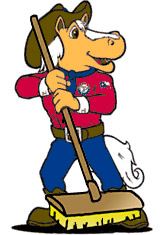 Wow. Just wow. Brandon McCarthy threw a complete game shutout on the road, which means nine innings. He did give up nine hits, but I don't think anyone really cares about that. He's never even gone past the seventh inning as a start before this game, and he nailed it. Scattering nine hits, it was a most impressive performance. This is the guy we thought we were getting from Chicago a few years ago.
The power stroke was still here. Had home runs from Josh Hamilton, Ian Kinsler, & Jarrod Saltamacchia. Four doubles jumped into the pool too. Every Ranger had at least one hit, except for pitcher Brandon McCarthy. However, Josh Hamilton made up for that, getting three of his own.
I don't know what else to say about this. It was Brandon McCarthy's game from front to back. Good for him. And good for us, too!
What's cool is we ended the trip at ..500. Can never complain about .500 on the road, really.