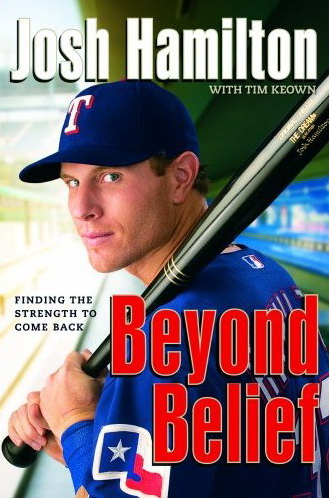 From the God is Good Department…
By now if you've read this site, you know about the Josh Hamilton story. Good kid goes bad, almost dies.. I gloss over that because if you're a Rangers fan, you know the story. It's a great story, and for me the best part of the story is not the recovery from drugs, but the fact that it was God that did it, and more importantly how far in front of himself Josh puts God and is not afraid to say it. So it's with great pleasure I tell people to read his book. I've handed my copy to a few people at my church and have had them read it. It's driven a couple of people to tears reading it. If you've never read it, you should.
Anyway, the reason I'm writing about this now is a show that is on tonight on MLB Network. It is the first of their originally produced documentaries, if you will. They're leading off with the Josh Hamilton piece. Officially, the episode is called "Josh Hamilton: Resurrecting the Dream", and will premiere tonight at 8PM local time here in Dallas. Here's a bit of text from the MLB.com press release..
Secaucus, N.J. – MLB Network today announced it will broadcast two original documentaries created by MLB Productions, both telling compelling comeback stories involving current MLB players. This Friday, February 27 at 9:00 p.m. ET, MLB Network will air Josh Hamilton: Resurrecting the Dream, a one-hour documentary on Rangers outfielder Josh Hamilton – which takes an insider's look into Hamilton's journey back into baseball.
Josh Hamilton: Resurrecting the Dream recounts Hamilton's journey both in his own words and for the first time, from the perspectives of his family members and close friends. The program marks the first documentary ever produced on Hamilton, and takes a comprehensive look into Hamilton's substance-induced breakdown, personal recovery and eventual climb to become one of the top hitters in the American League. Personal passages from his autobiography are read by Hamilton himself to further contextualize his journey.
MLB.com is pretty anal about their online video, so I'd normally stream the commercial they are running for the show here in this article, but I can't (legally, anyway) do that. So I'm just going to link to it.
Check it out if you get a chance. MLB Network in their two months on the air so far has shown a tendency to repeat the heck out of their programming, so if you miss the initial showing tonight, you probably can catch it at some point in the future too, I would imagine. :)