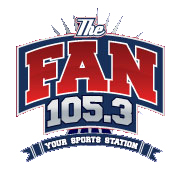 Just saw an announcement a few minutes ago that the radio coverage for the Texas Rangers is changing for 2009. All Rangers games have been on AM KRLD 1080 since 1995. That's not going to be the case starting this season.
Effective with the 2009 season, all weekday Texas Rangers games will be on 105.3 FM (aka "The Fan". According to the press release on the Rangers site, it is only weekday games (Monday through Friday) that are here. Saturday and Sunday games will continue to be on KRLD 1080 AM as they have been since 1995. The reason for this is unspecified "anticipated schedule conflicts". The schedule lists 110 games on 105.3, and 52 on 1080.
This probably isn't a big deal in the long run when you compare it to the confusion of TV coverage (given all the possible channel choices there), but it does take away that tagline KRLD has used for ages… "All the games, all the time". Still, it does seem easy enough to wrap one's head around. "OK, M-F is 105.3 FM, and Sat-Sun is 1080 AM – Got it". I will be curious to see how the better fidelity plays out. On top of that, I wonder if the broadcasts will be geared towards HD-Radio, as KRLD-FM is an HD-Radio channel, from what I've read today.
One other bonus is that this will really increase the radio schedule for spring training games. Generally, spring training games were only on Friday, Saturday, and Sunday. I asked aout that a few years ago, and was told that KRLD didn't want to piss off the "Dr. Laura" audience by replacing that show with Rangers games. This apparently will bypass that limitation. The number of spring training games is now 18, versus the 12 it has been for awhile now. 16 of the 18 are on 105.3. Check out the Rangers press release for a list of the dates of the Spring Training games (I'll have my site's schedule page updated shortly).
UPDATE: I've updated my site's schedule pages with the radio dates during spring training.