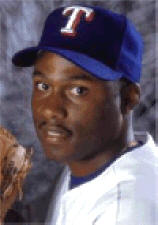 Former Ranger pitcher Kevin Foster died today after a bout with renal cell carcinoma. If you don't remember him, that's not surprising, he threw just nine games for us in 2001. I don't recall a ton of details about him either, but I seem to recall he was a nice guy from what I can remember. What pops to mind was that he was a good family guy. Assuming his personal info I had for him was still valid, he had a wife and two kids (may have had more kids since his time with us, as I rarely get family updates for former players).
His line for us in 2001 was:
0-1, 9G, 17.7IP, 21H, 14R, 13ER, 6.62 ERA
Not the greatest line, but you always hate it when one of your players passes like that. That makes two players that I can think of from the 2001 team who have now died – the other being Ken Caminiti.
Below is the wire story about his death:

CHICAGO (AP)–Kevin Foster, who was drafted as an infielder before becoming a pitcher and spending seven years in the majors and pitching mostly with the Philadelphia Phillies and Chicago Cubs, has died of cancer. He was 39.
He died in an Oklahoma City hospital Saturday after a six-month bout with renal cell carcinoma, brother Mark Foster said.
"He loved baseball, he loved people and people loved him," Mark Foster said. "He was a happy person who got along with everybody, and we will miss him."
Foster was selected by the Montreal Expos in the 29th round of the 1987 amateur draft. He converted to pitching three years later. The right-hander was traded to Seattle and then Philadelphia, where he made his first major league appearance in 1993.
Foster spent five seasons with the Chicago Cubs after being acquired from Philadelphia for Shawn Boskie in 1994, going 32-28 from 1994-98. His best season with the Cubs came in 1995, when he was 12-11 with a 4.51 ERA.
"He was very popular with his teammates, the organization and fans, and he will be tremendously missed," the Cubs said in a statement.
Foster battled arm injuries after 1997 and made a brief comeback with Texas in 2001. He finished with a career record of 32-30.
Foster, who was raised in the Chicago suburb of Evanston, was working as a truck driver at the time of his death.
In addition to his brother, Foster is survived by four sons and three sisters. He was divorced and engaged to be married.
Funeral arrangements were pending Tuesday.