The first televised game of the season came against something that I thought was far more important, going to my daughter's Easter egg hunt on Saturday afternoon. Jamey's spent a bunch of time talking about his kid lately, so I thought I'd use my site to give my offspring a mention. :)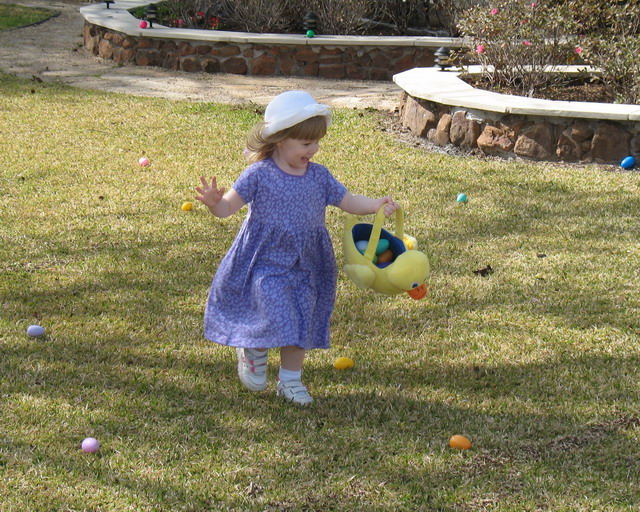 Seeing THAT was far more important than any other Texas Rangers game I've ever seen or will see. I did get to see the top of the first inning, where we scored two runs and Blalock got picked off first, but that was all I actually saw. By the time we got home from the egg hunt, and spent family time, I had to attend an Easter Eve service at church, so it was too late to start watching the rest of the game. So this was a box score only game for me, even though it was on TV (and radio for that matter).
Ian Kinsler and Michael Young had great days. Both went 3-3. Kevin Mench was 2-3. Hank Blalock was 2-3. Jason Botts was 2-5. Lots of hits. Eighteen in all – six of them were doubles. No home runs, however. Kind of surprised we didn't have more runs than we did with all those hits. Of course, pickoffs to end an inning don't help much in that regard.
Eric Hurley started the game and got a bit torched. 4.1 innings, ten hits, two walks, and five earned runs. The rest of our pitching staff (Rowe, Wilson, Benoit, Wright) didn't give up any runs at all.
Nice to beat a division rival like that.