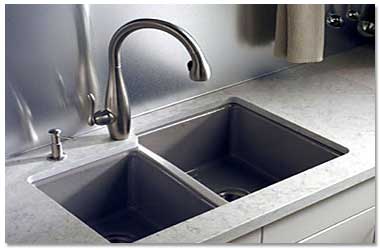 Late in the game, Josh Lewin made a reference to the image here, saying "we'll be back with the kitchen sink, as this game has seem everything". Well, about the only thing the game didn't see was a fight. There was a lot in this game. I have to admit that TiVo has changed my baseball viewing habits an awful lot. It's rare I sit there and watch the entire game, every pitch from front to back. I just get too impatient – especially if we're losing, and start skipping forward. However, after writing the article on scoring a game yesterday, I decided to sit down and score this one, which means watch every pitch. That was helped by the fact that I used a break in the rain the last week to do some lawnmowing, and my body was a little sore from that.
This game had a lot of consistent scoring by the Rangers. We scored at least one run in six of the nine innings played. We worked a lot of counts full all night – the six Mariner pitchers threw just over 200 pitches between them, which works out to be about 22 per inning, which is a lot. And that leads to one of the most bizarre stats of the night. The Rangers tied the franchise record for most men left on base in a nine inning game, with 17. That's 17 men on base in nine innings. I don't recall how many times we left the bases loaded, but with 17, there had to have been a few. All of our starters except Matt Kata had at least one hit. Three of 'em (Laird, Young, Lofton) had two hits, and two of 'em (Diaz, Byrd) had three. Five of our 16 hits were doubles, and we had no triples or home runs, so it was mostly singles ball. Which is fine. Things were pretty much spread out too, no single player had a game that towered over another, although Marlon Byrd had a good night with three (very hardly hit) hits and an RBI. A lot of this was helped by the wildness of the Mariner pitchers. There was a stretch there where it didn't seem like there was any strike zone at all – everything seemed to be called a ball for awhile. That wasn't a function of a bad umpire, but pitchers who couldn't locate – at all.
Defensively the best moment was the home run robbing catch by Kenny Lofton in the seventh that was the SportsCenter moment. Lofton stole a home run from over the wall against Adrian Beltre, and got the ball back to first (through Michael Young) to double off Keni Johjima. The look on Beltre's face on TV was quite priceless. I'm also SERIOUSLY surprised there were no pictures of Lofton's catch online. You'd think that would be something that would have been picked up, but I did not see any pictures of it. Darnit.
Scary moment when Mark Teixeira was walking off the field – he looked rather out of it to this very non medical person, and I knew it wasn't looking good. You saw him getting attention from Jamie Reed in the dugout, and the big red welt on the side of his face looked bad – where he got hit in the side of the face by a ball sliding into home plate. Later on they said it was a "mild concussion", and he hopefully doesn't miss any time, but you never want to see something like that.
Our bullpen wasn't too bad overall. Only Jack Benoit gave up any runs, and his was only one run. But in a back and forth game like this was, that can be a lot. Millwood gave up seven runs (only 4 earned) on 10 hits in five innings. That looks ugly, and those numbers are NOT good, but he seemed better than that. I know several of those runs would have not scored if for a couple of blunders (if not actual errors) by Ian Kinsler. Both plays lead to innings being continued, and then to further runs. One was a mental error on Kinsler when a ball that looked like a double play ball was hit to him and he calmly threw to first, obviously thinking there were two outs. That inning continued, and they scored a few more. As I sit here, I can't recall the details of the other play, but I remember at the time thinking – "Oh boy, there's another".
Gagne got the save, which alone was an unusual thing to say this season. If there's ever a guy who is primed to be out of town before Jul 31st, it's him. A guy like that has no place on this bad of a team, so he'll likely get traded to a contender. I wonder if the Dodgers would want him back? :)
Quite odd to get our 20th win of the season on June 1st. Wow.