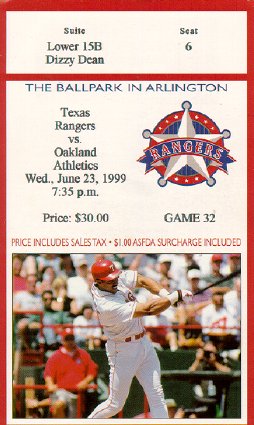 Oh man, what an annoying win. For me personally. Let me tell you why…
Well, around 4PM, I had my tickets handed to me. These were luxury box tickets – it turns out they were in the lower level box behind home plate, a little up the third base line. We were still behind the screen that hangs behind home plate – that should give you an idea of where these seats are. Well, when I found out that I was in a luxury box, I first thought, digital camera! This box belonged to the firm that our company's lawyer works at. Great stuff – they were kind enough to invite my wife and I to a game back in April in the seats they have right over the dugout, too.
So, I went home, got dressed for the game, picked up my wife, and ran back to the office to pick up a co-worker who was riding with us. Also going were others from work in a seperate SUV. Since I live in Garland, my regular route to the ballpark is to pick up Rt. 30 in Garland, and just ride it out to Arlington and the Ballpark. We're driving along, and hit downtown Dallas, and get through the mixmaster. We pass that, and come out to go by Reunion Arena, and we hit traffic – looks like an accident. So, we're creeping along, and by this point, we're right at the point where Rt 35 splits off, and Rt 30 splits off to the left, and continues out to Grand Prairie & Arlington. Well, traffic is stopped, and my car decides that it wants to stop, too! It stalls, and doesn't want to start. By this time, it's about 6:10. I get on the cel phone that my wife happened to have, and called AAA for a rescue, after I pushed the car to the side of the highway. I also then called the other car on their cel phone (hey, this is the computer game industry I'm in, we all have cel phones), and told them of my predicament. They show up about 10 minutes later, and they picked up my wife and our friend, and they carried on to the Ballpark. I stayed behind with the car and waited for AAA. It took about another 40 minutes or so for him to show up. It was 95 degrees out, and I'm on cement, in the sun. Er, it was not cool – let's just say that. The AAA guy shows up about 7:20 or so, and we get rolling right around 7:30. I finally got back home with my dead car right around 8:00PM.
Now, the game is about 25 minutes old, and I've totally missed the Stanley Cup presentation that I wanted to see. Not to mention the fact I'm missing out on the luxury box, which is a once in a lifetime thing. Not to mention I really missed my wife. I wanted her to see the Cup, I didn't want her to stay with me, I figured we both didn't have to suffer, so I alone waited for the car. It's 8PM, and I picked up the wife's car, and drove it out to the Ballpark and met up with the guys already there. Now, one thing about my wife's car – it has no working air conditioner, so we try to use that only when we have to. And boy, it was still hot out, although two open windows kept it somewhat cool. I finally made it out to the Ballpark, and the game was still in the middle of the 3rd inning. That surprised me, because when I took off from home, it was still the top of the second. It's about 36 miles from my house to the Ballpark (I'm not sure of the exact mileage). So, I was moving. :) When I got there, parking was already free, so I got to park for free, but unfortunately, I had to park in the middle of where the old ballpark was. If you know the layout of the area, it's a LONG walk to the ballpark from there. I had to walk past the convention center, past the mini kids ballpark, up home plate, and into the park. When I got out of my car, the A's had just made a pitching change with one out in the bottom of the third. By the time I got to the ballpark itself from my parking spot, the fourth inning was starting. The final nail in this story's coffin was this.. I entered in the home plate section. I looked at my ticket, and it said "Dizzy Dean Box – Lower 15B". So, I figured that meant the box was near section 15. So, I walk down towards third base where section 15 is, and go up to the luxury box level. The ticket person there said I need to walk back towards home plate. So, as if I wasn't hot enough from all that had happened to me with the car, the walk, the drive(s), I had to walk back to home plate, and I could have taken a friggin elevator! Arrrrrrrrrrrrgh!
However, I finally get there, and I was so overheated, it took me till the bottom of the fifth before I could really start to enjoy myself. But oh man, were these seats sweet. This was definitely a once in a lifetime experience, and I'm glad I got to be in the box, even missing the first three innings. If you ever get the chance to use one of these, go! It was beautiful. I had taken a digital camera, that I gave to my friend Kevin who was in the car with me to take to the Ballpark. When I got there, I took pictures (Kevin took some when I wasn't there). If you want to see the pictures taken at this game, you can do so here.
What was weird about the game in a luxury box is that you don't pay a whole lot of attention to the game itself. I'm sure if you're up here a lot, you do, but when you're in a luxury box with a catered meal, you don't spend a lot of time paying attention to the game at hand. Sure, I watched, and I saw some scoring and good plays, but my focus was on the box itself. It had a private bathroom, sink, counter space, lounge chairs inside, in addition to the 10 actual seats outside in the ballpark area. They also had two seats from Arlington stadium autographed by Nolan Ryan inside the box. That was a nice touch. There were several photos, including a nice one of Arlington Stadium, as well as some of Nolan Ryan. Top notch stuff, and if anyone's lucky enough to be able to be in one of these reuglarly, I have to salute you – these are the way to go.
The game itself was kind of interesting. From what I listened on the radio to, Mike Morgan was a bit wild early, giving up three runs in the first two innings, including 41 pitches in the second inning. However, he got it together after that, giving up nothing from innings 3-7. He was then replaced in relief by Mike Munoz & Tim Crabtree for an inning – Munoz gave up a weird run. Wetteland came in for the ninth, and things looked bad – he gave up another home run (to Ben Grieve), and the score was 7-6. He did hold on for the win, breaking a season high four game losing streak. This game to me was more about my car troubles and the box than the game itself, so I'm not going to write any more – these things were about all that I remember from the game anyway. :)
However, Ben "bed bouncer" Grieve had his second two home run game of his career. Guess where the other one was? That's right – at the Ballpark in Arlington last year. We should have this boy here, as he kills us. Of course, we'd be so innudated with remarks about Tom Grieve too, it'd get sickening, I'm sure.