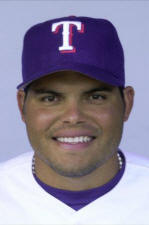 Full Name: Ivan Torres Rodriguez
Born: November 30, 1971 in Vega Baja, Puerto Rico
Height: 5'9″ Weight: 205
Bats: Right Throws: Right
Personal: Wife (Maribel – 6/20/91), three children (Ivan Dereck – 6/5/92, Amanda Christie – 6/21/95, Ivanna Sofia – 1/12/00)
Resides: Rio Piedras, Puerto Rico
MLB Debut: Jun 20, 1991
Agent: Scott Boras (formerly Jeff Moorad)
Notes
Pudge's first day in the majors was also the day he got married. He caught Nolan Ryan that game, too.
1999 Silver Slugger award
1999 Gold Glove – AL Catcher
1999 AL Most Valuable Player
2000 Gold Glove – AL Catcher
Has a son (Ivan Derrick Rodiguez, an outfielder), who was drafted in the 6th round of the 2011 draft by the Minnesota Twins.
Team History
1991-2002: Texas Rangers (originally signed as a free agent on July 27, 1988 – Was not drafted – GFA – Oct 28, 2002)
2003: Florida Marlins (as a free agent on Jan 22, 2003 – GFA Nov 22, 2003)
2004-2008: Detroit Tigers (as a free agent on Feb 2, 2004)
2008: New York Yankees (via trade for Kyle Farnsworth on July 30, 2008 – EFA Oct 30, 2008)
2009: Houston Astros (as a free agent on Mar 20, 2009)
2009: Texas Rangers (via trade for Matt Nevarez & Jose Vallejo on Aug 18, 2009)
2010-2011: Washington Nationals (as a free agent on Dec 7, 2009 – GFA Oct 30, 2011)
Retired Apr 24, 2012 [ Link ]
Salary History
2011: $3 Million
2010: $3 Million
2009: $1.5 Million (w/ addtl $1.5 Million in incentives)
2008: $13 Million (Team Option picked up 10/02/07)
2007: $11 Million
2006: $11 Million
2005: $8 Million
2004: $7 Million
2003: $10 Million
2002: $9 Million
2001: $8.6 Million
2000: $8.6 Million
1999: $8.6 Million
1998: $6.7 Million
1997: $6.825 Million
1996: $4 Million
1995: $2.675 Million
1994: $520,000
1993: $300,000
1992: $140,000
1991: $120,000 (presumably)
Pudge Rodriguez Links